First Water™ Mobile Trailers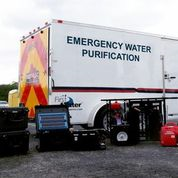 Water contingency planning can be a major challenge for communities, campuses, or healthcare systems that cover large geographic regions. The Mobile Trailer Solutions from First Water™ provides an easy way to store and position your water purification equipment for rapid deployment to almost any location. Each customized mobile trailer solution contains equipment that will enable you to manage every aspect of a water disruption event and can be easily selected based on your output need or community size.

Every trailer is custom designed to provide not only safe storage and transport but an ideal operational platform. Custom shelving with integrated tie-downs protects equipment during transport and maximizes space. Water and skid-proof floors create a rugged platform to handle heavy traffic. With the equipment deployed, counter level shelving doubles as a work surface or bench.

On-site training is included with all MTS purchases.