FW-1200 Water Purification System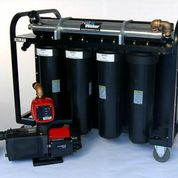 The FW-1200 is the workhorse of the First Water product line. With a daily production capability of 28,000 gallons, it can sustain critical operations through most any water disruption event. Multiple FW-1200's can work together to increase water production and meet the most challenging operational demands.

The FW-1200 is designed to function in either fixed facility or field operations. With a rugged aluminum frame and compact size, it is lightweight and easily transported in an SUV or van. It can be rapidly deployed around critical facilities like hospitals or campuses as well as transported during emergencies to support field hospitals or base camps.

In the field, the FW-1200-M can support mobile hospitals, strike camps, or community water distribution points. From natural disasters to broken water mains, the ability to provide potable water in the immediate aftermath is paramount.

Paired with the Supply Station, you are now able to utilize most any available water source including fire trucks, hydrants, swimming pools, and more. The advanced First Water purification process will allow you to confidently provide potable water exactly where it is needed.