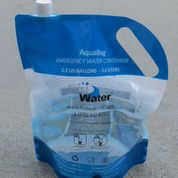 Aqua Bags
Aqua Bags are 1.5-gallon water containers made of thick, food-grade plastic. They fold flat for easy storage and fill to create a sturdy container suitable for transport. Aqua Bags are designed to provide victims or patients an easy to carry container with enough clean water for one day.
Capacity - 1.5 gallons
Material - 3 Ply Food-Grade Laminate Plastic
Temperature Range - 100c to 20c
Storage Dimensions - 200 Aqua Bags / Box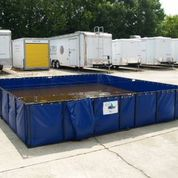 Supply Station
With a Supply Station in position, water sources such as fire trucks and construction tankers become available. You also have the ability to position and utilize on-location supplies such as water tanks, hydrants, or residual water from facility plumbing.

Dual 10" drain spouts and conveniently positioned floor handles make tear down and storage easy. The innovative double folding frame allows you to keep the Supply Station out of the way when not in use.

The Supply Station 3,000 can accept water directly from fire trucks, construction tankers, or hydrants and sustain operations over an extended period. They ideally supply the FW-1200 to support high volume water purification operations.
Frame - 7/8" od. 14 gauge steel
Sidewalls - 22 oz. PVC
Floor - 30 oz. PVC
Drain - Dual 10" tubes
Open Size - 13′ x 13′ x 29″ (3,000)
Closed Size - 7′ x 15″ x 29″ (3,000)
Weight - 185 lbs (3,000)
Capacity – 3,000 gallons
Potable Water Storage – No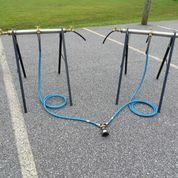 Filling Station
The Filling Station is a clean water distribution manifold system. Placed directly after the FW-1200-MTM or any other potable water source, up to 8 lines of people can simultaneously fill containers. Each food-grade filling spout is removable, allowing you to direct water to other locations with any 3/4" drinking water hose. With this capability, it is easy to purpose outlets to uses such as showering, food preparation, or misting to lower body temperature. All models are constructed of heavy-duty stainless steel with removable legs for easy storage.
Filling Spouts - Eight (8)
Weight - 40 lbs
Size (Stored) - 12" X 12" X 36"
Size (Deployed) - 50" X 36" X 31"
Material - Stainless Steel, Brass, Food Grade Rubber