FW-120 Water Purification System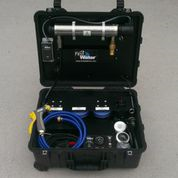 The FW-120 is a 120 gallon per hour water purification unit fully contained in a rugged transport case. At 60 pounds, it is the ideal solution for facility operations, rapid response, pre-deployment, and support of small teams. The onboard pump can draw water from virtually any fresh water source and provide clean water for drinking, hygiene, food service, and many other tasks.

The advanced First Water Treatment System and class A ultraviolet disinfection is at the core of the FW-120 and has been proven effective against microbiology as small as 0.019 microns. The First Water 120 treatment system is effective against viruses, bacteria, and cysts in freshwater sources and has been independently certified to both civilian and DoD standards for emergency water purification (USEPA and NSF P231/P248).
Features
Water Source - Fresh
Purification Rate - 2 GPM
Pump - Onboard
Power - 120v
Amps - 9
Dimensions - 25 x 19 x 13 in
Weight - 60 lbs
Pore Size - Effective to 0.019 Microns
Testing Standard - USEPA/NSF P248/P231